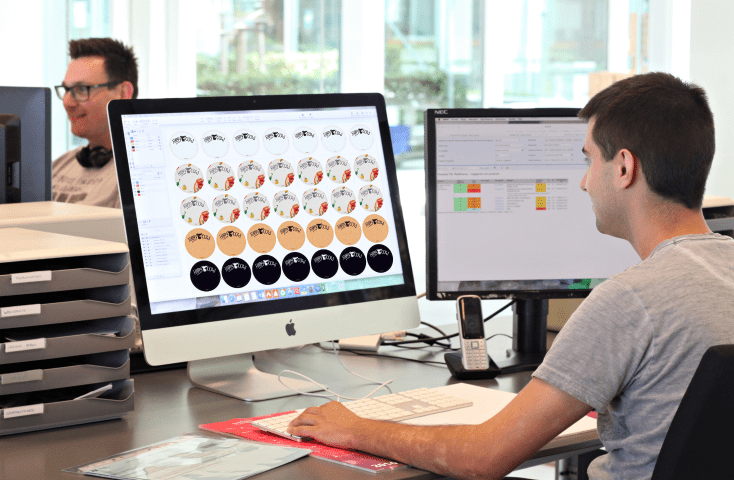 June 8th, 2022
HolyGrail 2.0 - Phase 2 Unraveled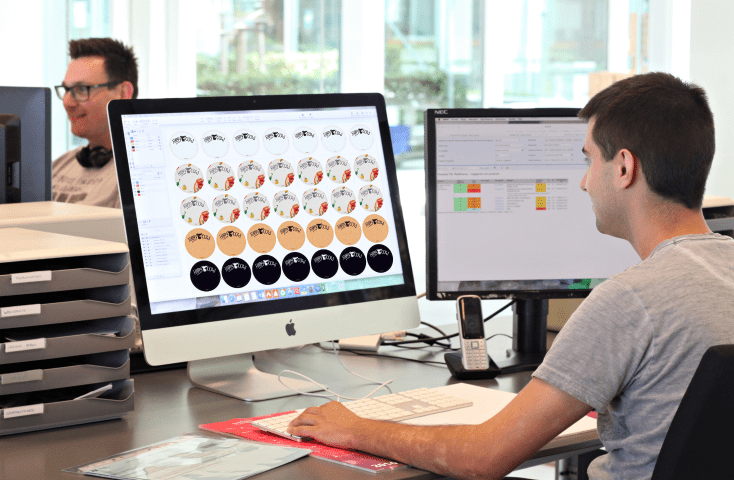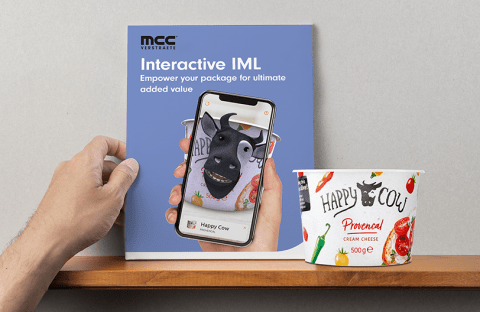 Want to know more about Interactive IML?
Discover how interactive IML adds value to every stage of the packaging journey
Can you give us an update on where we currently stand?
Knowing that the shape of discarded packaging can take all kind of unpredictable dimensions and shapes, and on top of that will be smudged, it's of utmost importance to have a strong readable watermark in combination with max surface coverage. When a packaging is only having a wraparound label, the amount of label detectable to the cameras of the sorting machine can become too small for optimal detection.
To check the impact of increase enhanced packaging surface, we've tested six different Happy Cow variants each with a larger enhanced surface:
V1: Standard packaging with wrap around label outside printed with a watermark
V2: Wrap around and bottom label. Both outside printed with a watermark  
V3: Wrap around label. DoubleSided printed with a watermark and bottom label outside printed with a watermark
V4: Wrap around and bottom label. DoubleSided printed with a watermark
V5: Black wrap around and bottom label. Bottom DoubleSided printed with a watermark
V6: White wrap around and bottom label. Bottm DoubleSided printed with a watermark
The test results show a clear positive impact on the detection rate by having more packaging surface covered with a printed digital watermark. Especially having also a watermark on the inside of the packaging (in case of transparent packaging) makes a big difference.

Nico Van de Walle, Product & Circular Economy Manager at MCC Verstraete
In our case we increased the enhanced packaging surface with extra print and extra labels, but one can obtain a similar result with a combination of a printed watermark and a 3D watermark inside the packaging.
What is the next step?
We are currently validating a second supplier of sorting machines with the leadership team so that we can eventually start phase 3 with two types of sorting machines.
During phase 3 we want to test the technology under industrial conditions with commercial packaging from the French, German and Danish markets. For this purpose, brand owners who are members of HolyGrail 2.0 are introducing watermarked packaging in abundance.
By creating new high-quality waste streams that we will subsequently recycle, we not only want to validate the concept technically, but also commercially. To this end, we are working with various business models in which there is a clear added value for the entire supply chain.
How can we provide support?
Our goal is to support our customers, brand owners, retailers, packaging producers, and others in the transition to the future, so that their packaging remains 'future proof'. This is a service we offer in-house.
As an authorized partner of Digimarc, we are authorized to process files with a Digimarc watermark. Our in-house experts, James & Damy, have followed a specific training course for this.